Obedience Training
At Silverbrook Kennels, we know that you want your dog to be an upstanding citizen while guests are over, or while out on walks in the neighborhood. That's why we offer a 3-week board and train program for obedience. To help your dog feel comfortable while they learn, we have created a home-like setting and give our training dogs individualized care all day. We love to train every kind of breed and enjoy seeing their achievements and success throughout training.
What To Expect
During our obedience training, your dog will master basic commands including heel, sit, come, leave it, and down. After completing our course, your dog will be heeling on and off leash, recall on command, and will understand basic discipline. You won't have to worry about them jumping on guests or uncontrollable barking.
Obedience skills are taught strategically, so that even with distractions like other dogs, squirrels, and people, your pet will still listen to commands. All our training is done one-on-one with your dog, so we can individualize commands and address any training needs specific to your dog and family. To sign up for obedience training, please fill out our form below.
Upcoming Obedience Training Sessions
Upcoming classes begin: September 2nd & September 30th
Our Training Process
Before the training program begins, our trainer will work with you to complete a questionnaire that will help us further understand your goals for your dog, while also gaining insight on any current behavioral issues you are observing at home. We will also conduct a brief initial evaluation of your dog to better track their progress throughout training.
At the end of the second week, we will arrange a consultation visit with you. During the consultation, we will discuss your dog's progress and begin providing after-training instructions. Guidance on proper dog handling and management is key to strengthening the obedience foundation that our training establishes with your pet. Don't worry, we will also set aside some time for cuddling and TLC, we know you miss them.
Owner involvement is such an important part of obedience training. We will spend more time with you at the end of the 3-week program to help you practice good handling skills and establish positive dog/handler relations. When you pick up your dog, we'll review our management plan and give you time to practice handling your dog. Then, it will be our turn to say goodbye, because now WE will miss them!
Why Train with Us?
Our training offers a variety of benefits for you and your dog, including:
All lessons are one-on-one with the trainer and your dog.
Communication during the training process gives you comfort and confidence.
Small classes and supportive environment encourage continual learning.
Dogs that complete our training receive priority booking for boarding and daycare!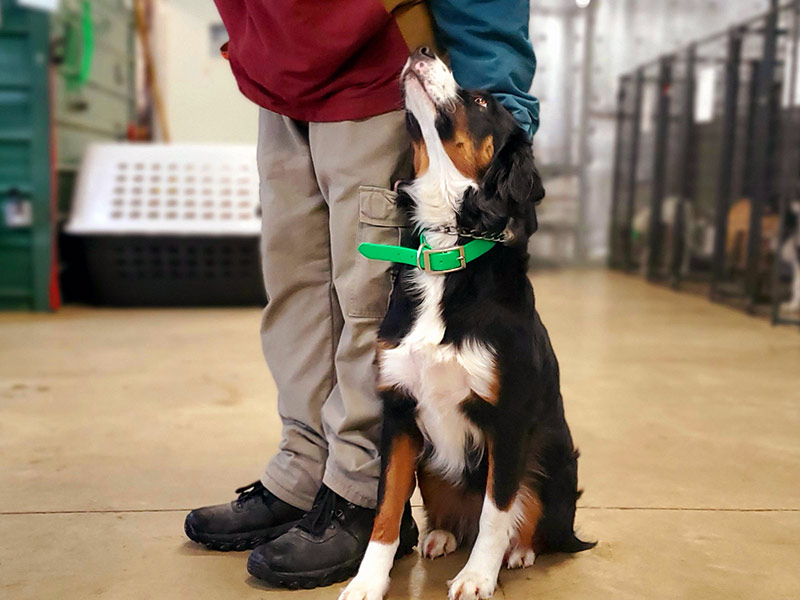 Training Fee
The fee for our 3-week program is $2,500. This includes the cost of the training collar we recommend and will help you learn how to use. Payment for half of the training fee is required upfront when you schedule your dog for training. The balance is payable when your dog completes the training program. We prefer payments made in cash or check; however, we also accept major credit cards.
Required Vaccinations
To ensure the safety of all our canine guests and our incredible staff, we require that your dog's shot records are up to date before staying with us. Please note we do not accept self administered vaccines. Vaccinations must be administered by a veterinarian, animal clinic or hospital.
Vaccinations we require:
Rabies
Parvo/Distemper
Bordetella (administered at least 14 days before staying with us)
Canine Influenza (H3N8/H3N2)